Course details
★ Luxury ★ 【Beef shell 3 sunflower · oyster · horse stick · 12 sashimi · crab】 【Including local sake 120 minutes drinking】 with ◆ 9000 yen → 8000 yen ◆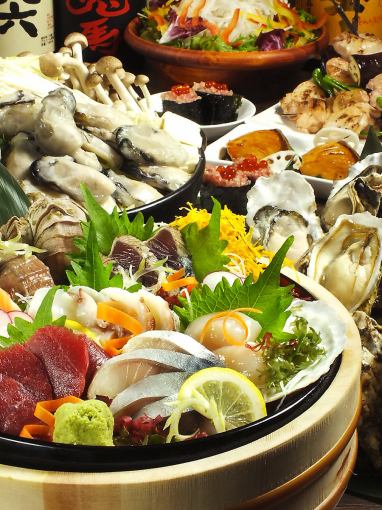 8000 yen
120 minutes with unlimited drinks, tax included including coupon usage is 8000 yen
All-you-can-drink available

All you can drink menu Over 100 kinds! Draft beer Sapporo Classic, local sake such as Kubota Senju, with authentic shochu ♪
Available days for reservation

Monday - Sunday - Public holidays - Holidays
It is a luxurious course of all 10 luxury goods per item.There are no more luxury mistakes! 3 fresh Beef shells, oysters from Akkeshi, extra large button on shrimp prime, Japanese beef fillet steak, crab meat crab meatball, grilled king crab meat, grilled chicken feet, grilled fish dumplings, exquisite It is the extreme course of luxury such as horse sting.
Course menu
Assorted shellfish with shellfish from Akkusa
■ Extra large button Ebi-cho with Specialty Seafood Soup Fortune 12 Platter Assortment
Cooking chief carefully selected by arrival of the day carefully selected, 12 oversized buttons with extra large button shrimp.
■ Direct delivery of Kumamoto Superb horse horses
It is a popular best horse sting immovable from the open.
■ Beef bowls in 3 flavors
■ Wagyu Beef steak
■ Today's salad
I spent a lot of time on the material of the season
■ ☆ crab salty ☆ "crab shell bamboo grill" and "barbecued barbecued legs"
Baked with crabs and so on only with miso, with crab shell-baked baked
I grinded the thalaba legs roasted.
■ Grinding specialty Silver Mutsu
It is a popular dish with greasy body and our own seasoning.
■ Sea urchin and soup on rice
Luxuriously made sea urchins and salmon together.
■ Dessert
Fresh as a cold dessert!
All-you-can-drink menu
·beer
· Sapporo Classic
· Shochu
· Water split, oolong high, green tea high, jasmine high, shoulder lime, shochu lemon, sho calpis, lime sour, lemon sour, calp sour, blue apple sour, giant peak sour, giant peak calp sour, honey yuzu sour, honey apple sour
·Cocktail
· About 50 kinds of bass 【【Peach> <Lychee> <Cassis> <Wine> <Milk> <Campari> <Sake> <Jin> <Vodka> <Lamb> <Tequila>] The base is about 50 kinds! Kuyanyan, FuzzyNABLE, Lychee Orange, Cassis There are many such as Orange, Moscow Mule, Gin Tonic, American Lemonade, Operator, Kalua Milk, etc. ♪
· Makgeoli
· Makgeolli, Banana Makgeolli, Yuzu Makgeolli, Plum Makgeolli, Big Peak Makgeolli, Peach Makgeolli, Blue Apple Makgeolli, Calpis Makgeolli, Melon Makgeolli, Orange Makgeolli, Acerola Makgeolli, Pine Makgeolli, Pomegranate Makgeolli
· Others
· Wine, sake, plum wine, apricot sake, whiskey
·Soft drink
· Oolong tea, green tea, jasmine tea, calpis, orange juice, grapefruit juice, pine juice, cola, ginger ale
Major shochu
· 【Potato】 Satsuma White Wave · Black Kirishima · Ikkima · Satsuma Island Beauty, 【Wheat】 Ichigo, 【Rice】 Shiraitake Shiro, 【Shisho】 Forge Highness, 【Awamori】 Remaining Wave · Ruizen
Local sake
· Kubota Senju, Hachihama, Ichinose, Shibata, Hundred Treasures, Northern Wins, Oni Korosi, Horse Rider, Ozeki
2018/12/13 update