Course details
Oyster · raw, including 120 minutes drinking 【【Big course】 ◆ Special price 4000 yen ◆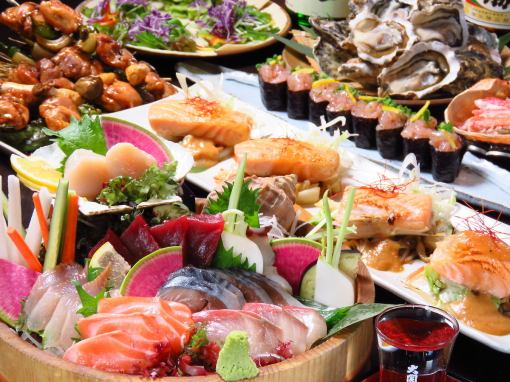 4000 yen
120 minutes with all you can drink, 4000 yen including tax with coupon usage
All-you-can-drink available

All you can drink menu More than 100 kinds! Draft beer with Sapporo classic ♪
Reservation deadline

Until 23 o'clock the day before the store visit date
Available days for reservation

Monday - Sunday - Public holidays - Holidays
It is a luxurious coupon-only course such as crab, oyster, salmon, sticky with seafood as main.
Course menu
● Akkeshi direct feeding shell with raw oyster
It is a valuable oyster come directly from fishermen of Akkeshi every day.● Seafood Soup Fortune Fortune 10 Platter Assortment
On arrival of the day, 10 items carefully selected chefs
● Oversized BBQ Broiled Skewers
Extra large barbecue skewers! It was roasted roasted.
● Grilled crab meat with crab
It is a masterpiece baked only with miso as a crab's body.
● Today's season's fresh salad
Take a little time on the season's material
● Salmon Harassed Charmaine Baked Wind
The taste of vegetables and miso with butter's effect in greasy haras
● Shrimp's Onion Shiori Shiori Sushi
Sweet and sour fried shrimp with rich salt
● Today's dessert
With cold dessert, refreshingly!
All-you-can-drink menu
·beer
· Sapporo Classic
· Shochu
· Water split, oolong high, green tea high, jasmine high, shoulder lime, shochu lemon, sho calpis, lime sour, lemon sour, calp sour, blue apple sour, giant peak sour, giant peak calp sour, honey yuzu sour, honey apple sour man Ume Sour Yubari Mellon Sour, Ribbon Napolin Sour, Sekuu Wasa Sour
·Cocktail
· About 50 kinds of bass 【【Peach> <Lychee> <Cassis> <Wine> <Milk> <Campari> <Sake> <Jin> <Vodka> <Lamb> <Tequila>] The base is about 50 kinds! Kuyanyan, FuzzyNABLE, Lychee Orange, Cassis There are many such as Orange, Moscow Mule, Gin Tonic, American Lemonade, Operator, Kalua Milk, etc. ♪
· Makgeoli
· Makgeolli, Banana Makgeolli, Yuzu Makgeolli, Plum Makgeolli, Giant Peak Makgeolli,, Blue Apples Makgeolis, Calpis Makgeolli, Pomegranate Makgeolli
· Others
· Wine, sake, plum wine, apricot sake, tea shochu, barracking, whiskey (tris angular bottle)
·Soft drink
· Oolong tea, green tea, Jasmine tea, Calpis, Orange juice, Grapefruit juice, Pine juice, Cola, Ginger ale ribbon Napoline, Yubari melon soda
· Cafe
· Espresso, American, Blend, Ice Coffee, Cafe Au lait, Cafe Mocha, Matcha Ole, Caramel Macchiato, Tea
Major shochu
· Sweet potato white rice noodles
2018/12/13 update