Course details
Kitakai Course 【Three shells of Beef shell, oyster, sashimi 10】 【Raw, including local sake 120 minutes with drinking 5000 yen】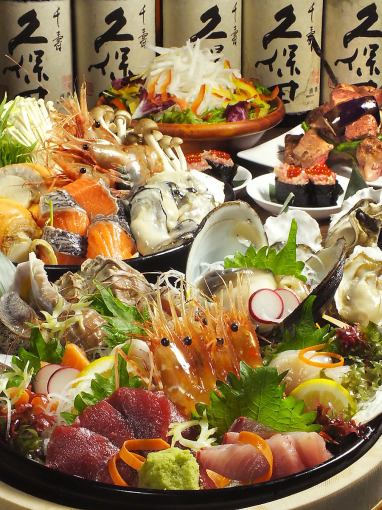 5000 Yen
120 minutes with all you can drink, tax included with coupon usage is 5000 yen
All-you-can-drink available

All you can drink menu Over 100 kinds! Draft beer Sapporo Classic, local sake such as Kubota Senju, with authentic shochu ♪
Reservation deadline

Until 23 o'clock the day before the store visit date
Available days for reservation

Tuesday, Sunday, Public Holiday, Holidays
Secretary-san's must-see! Special course with fresh Bequiauca 3-point prime!
Course menu
Appetizer
■ Seafood Soup Fortuneyan 10 Platter Assortments
Grass of Rusutsu herb pigs
■ Today's salad
■ Beef bowls in 3 flavors
Grilled flavor of plenty of delicious silver mush
■ Akkeshi direct raw oyster
Excellent freshness on daily purchase!
■ Amazing luxury! Crab · Uri · Ikra Shima Sushi
■ Dessert
All-you-can-drink menu
·beer
· Sapporo Classic
· Shochu
· Hydration, Oolong Hi, Green Tea High, Jasmine High, Shoellem, Shochu Lemmon, Sho Calpis, Lime Sour, Lemon Sour, Calpis Sour, Blue Apple Sour, Big Peak Sour, Giant Peap Calp Sour, Honey Yuzu Sour, Honey Apple Sour, Yubari melon sour, ribbon napoline sour
·Cocktail
· About 50 kinds of bass 【【Peach> <Lychee> <Cassis> <Wine> <Milk> <Campari> <Sake> <Jin> <Vodka> <Lamb> <Tequila>] The base is about 50 kinds! Kuyanyan, FuzzyNABLE, Lychee Orange, Cassis There are many such as Orange, Moscow Mule, Gin Tonic, American Lemonade, Operator, Kalua Milk, etc. ♪
· Makgeoli
· Makgeolli, Banana Makgeolli, Yuzu Makgeolli, Plum Makgeolli, Big Peak Makgeolli, Peach Makgeolli, Blue Apple Makgeolli, Calpis Makgeolli, Melon Makgeolli, Orange Makgeolli, Acerola Makgeolli, Pine Makgeolli, Pomegranate Makgeolli
· Others
· Wine, sake, plum wine, apricot sake, whiskey
·Soft drink
· Oolong tea, green tea, Jasmine tea, Calpis, Orange juice, Grapefruit juice, Pine juice, Coke, Ginger ale, Yubari melon juice, Ribbon napoline
Major shochu
· 【Potato】 Satsuma White Wave · Black Kirishima · Ikkima · Satsuma Island Beauty, 【Wheat】 Ichigo, 【Rice】 Shiraitake Shiro, 【Shisho】 Forge Highness, 【Awamori】 Remaining Wave · Ruizen
Local sake
· Kubota Senju, Hachihama, Ichinomiya, Shibata, One hundred treasure trout, Ogre koroshi, Seiji kai, Ozeki
· Cafe
· Espresso, American, Blend, Ice Coffee, Cafe Au lait, Cafe Mocha, Matcha Ole, Caramel Macchiato, Tea
2018/12/13 update